Livework NYCHA
Institute for Public Architecture, New York USA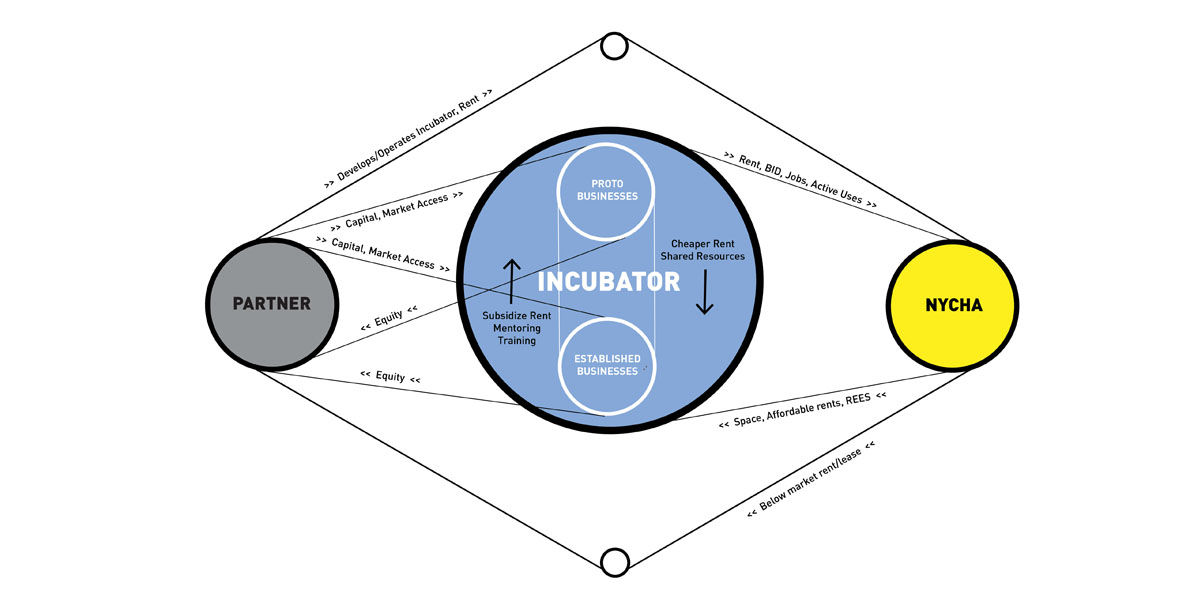 NYCHA Liveworks: Pairing Affordable Workspaces with Affordable Housing

Lloyd Blankfein. Howard Schultz. Ursula Burns.

What do these leaders of Goldman Sachs, Starbucks, and Xerox have in common? They all grew up in New York City Housing Authority (NYCHA) developments, and their successes are but a few examples of the business acumen of NYCHA residents. Another example is the estimated 3,500 businesses operating within NYCHA residences, which range from craft and food production, to hair salons, childcare, and network marketing. Imagine the business talent, ambition, and energy of NYCHA's 400,000 residents that remain unrealized because of policies that restrict business activities within NYCHA residences, and because of the lack of space, resources, and opportunities. NYCHA Liveworks seeks to realize that economic potential by formalizing the informal NYCHA businesses: incubating affordable workspaces within affordable housing communities.

NYCHA Liveworks proposes a network of workspace incubators within or adjacent to NYCHA campuses. Serving NYCHA residents, these incubators would offer lower rents for smaller workspaces while combining shared workspaces with shared resources. Micro businesses could benefit from pooled facilities, equipment, and benefit plans; training, networking, and mentoring opportunities; as well as legal advice, market access, and financing. Though the scope of these workspaces would depend on community assets, needs, and partnerships, a comprehensive continuum of services is essential. Imagine shared offices, commercial kitchens, cosmetic salons, or makerspacers paired with services and resources to support fledgling as well as established businesses.

The urban implications are far-reaching: NYCHA Liveworks could contain or buffer incompatible uses and infrastructure, transform transit deserts into self-sustaining communities, or activate and integrate NYCHA campuses into their surrounding social, economic, and physical fabrics. Moving beyond the live/work paradigm focused on higher income individuals at the building scale, NYCHA Liveworks proposes a live/work model on the community scale for people of limited means, but great potential—an equitable live/work model for local community investment, local development, and local empowerment.


Media:

Next City: "NYCHA's Sitting on Thousands of Square Feet of Business Opportunity" (August 18, 2016)
WBAI 99.5 FM NYC Radio: City Watch (August 20, 2016)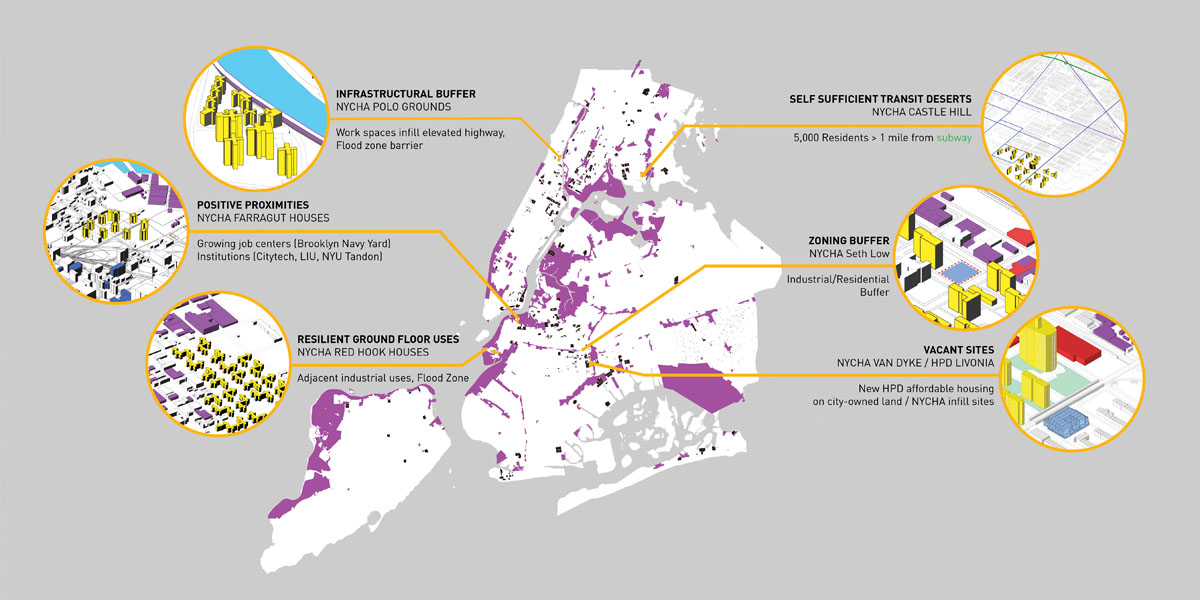 Urban implications: Livework NYCHA sites mapped with manufacturing zones that accommodate office and light-industrial uses.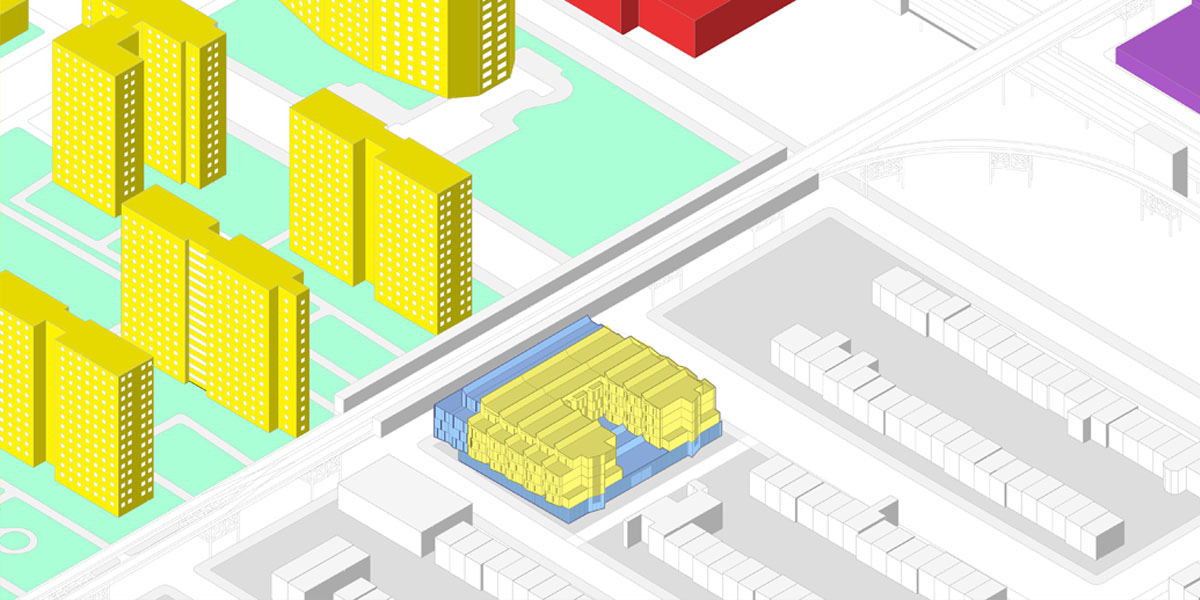 Case study: New HPD affordable housing on vacant city-owned land / NYCHA infill sites: Livonia, Brownsville, Brooklyn.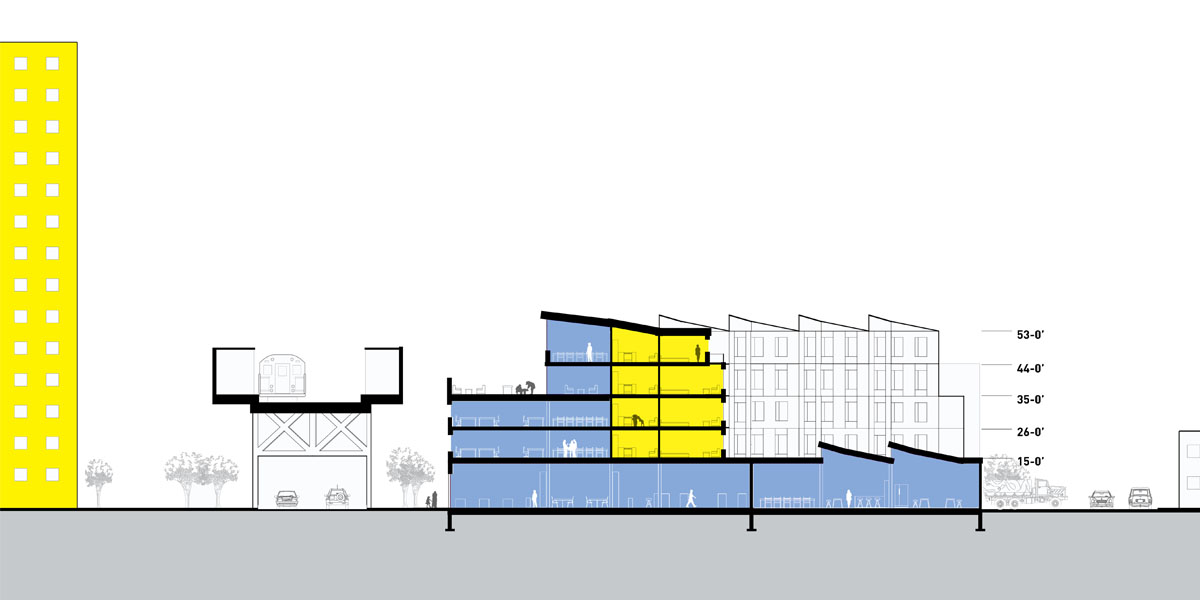 Case study: Workspaces buffer the residential uses from the 24 hour elevated subway.